Hazardous Waste Collection Events
Residents of Bruce County are encouraged to bring their hazardous waste materials to any of the Household Hazardous Waste Events. Thank you for responsibly disposing of household hazardous waste.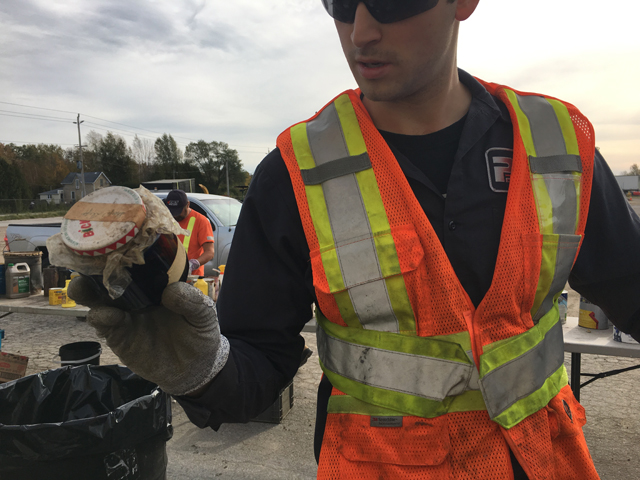 Household hazardous waste materials include: paints and stains, propane tanks, used oil, aerosols, batteries, antifreeze, oil filters, solvents, household cleaners, fluorescent lights, fertilizers, fuel, pharmaceuticals, fire extinguishers, pesticides, and pool chemicals. See the full list of Accepted Materials below.
Please note that commercial waste, agricultural waste, industrial waste, PCB's, ammunitions, and flares will not be accepted.
Only containers with a volume of 30 litres or less will be accepted. Waste must be received in containers that can be disposed of. Containers will not be emptied and returned (ie. gas cans). Empty metal paint cans are blue box recyclable.
Attendees must remain in their vehicle with waste materials in their open trunk only for unloading. Please do not attend events if you are experiencing COVID-19 symptoms.
Bruce County retains the right to refuse service if protocols are not being followed.

View the 2023 Household Hazardous Waste Collection Schedule

View the 2021 Household Hazardous Waste Event Summary

Discover more about Waste Management in Bruce County
Contact us
General Inquiries
Transportation and Environmental Services
Tel : 519-881-2400
Accepted Materials at Household Hazardous Waste Events
Acids
Formulations containing or pure compounds of:

Sulphuric acid
Hydrochloric acid
Phosphoric acid
Oxalic acid
Muriatic acid
Acetic acid
Boric acid

Drain Openers
CLR
Deck Wash
Rust Remover

Aerosols

All

Spray paint
Cleaners
Polishes
Insulating Foam
Air Fresheners

Propane Tanks
Propane Cylinders (Coleman)
*Note: Empty Aerosol cans can be placed in your blue box.

Automotive

Motor Oil
Oil Filters
Diesel
Anti-freeze
Transmission Fluid
Brake Fluid
Batteries
Adhesives
Car Polishes
Car Waxes

Batteries

Dry cell household
Rechargeable household
Automotive

Caustic
Formulations containing, or pure compounds of:

Sodium Hydroxide
Potassium Hydroxide
Sodium Metasilicate
Sodium Silicate
Ammonia
Ammonium Chloride
Drano
Easy-Off
Lye
Photo-Chemicals

Fertilizers

Potting soils which contain fertilizers
Any product making a nutrient claim

Shrub and tree food
Lawn Fertilizer
Multipurpose Fertilizer

Fire Extinguishers

Extinguishers for electrical, combustible, flammable, and laboratory fires

Fluorescent Lamps

Compact fluorescent bulbs
Fluorescent tubes

Mercury Devices & Switches

Thermometers (fever and non-fever)
Barometers
Switches containing mercury
Thermostats

Miscellaneous Organic
Flammable Organic Compounds including:

Camping Fuels
Caulking
Cements and Glues
Driveway Sealers
Drywall Compounds
Epoxies
Kerosene
Lacquer
Paint Stripper
Polishes
Polyfiller
Putty
Resins
Rust Paint
Silicone Compound
Solvents
Stains
Thinners
Urethane
Varnish
Waxes

Oxidizers

Fertilizers
Plant Food
All Nitrates
Bleach
Hydrogen Peroxide
Pool Chlorine
Sodium Hypochlorite
Nitric Acid
Pool Chemicals

Paint

Alkyd (oil) paints
Latex paints
Solvent-based Stains and Coatings
Water-based stains and coatings
Primer
Basecoat

Pesticides

All Herbicides, Fungicides, Insecticides
Insect Repellant
Weed killers
Pest Control Products (Roundup)

Pharmaceuticals

Non-prescription and over the counter medications
Pills
Liquids
Cough Syrups
Cosmetics
Nail Polish
Inhalers
Perfumes

Unacceptable Materials

Infectious Waste, including sharps
Explosives, Ammunition, or Flares
Empty Cans, Bottle, etc. (empty paint and aerosol cans go directly into the blue box).
Cardboard boxes.