How We Plan Complete Communities
Collaboratively, we guide Bruce County for future generations.

Land Use Planning informs and helps our communities manage change in our shared natural, built and social environments for the common good.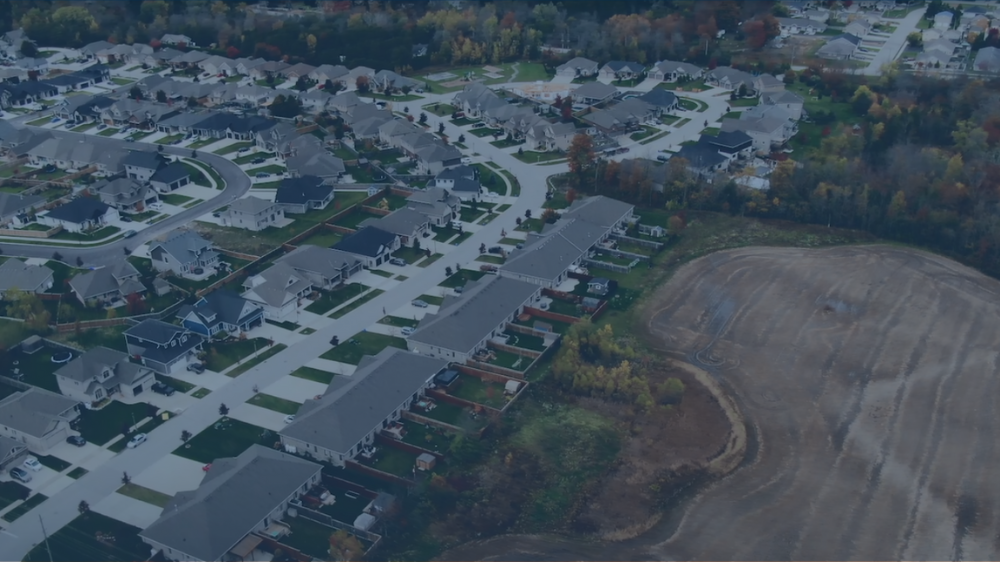 Bruce County Land Use Planning helps communities manage change by ensuring every planning decision reflects the public interest and the needs of the individual communities that are impacted. 
Bruce County varies in the context of agriculture, economics, culture, geography and tourism. What happens on the Peninsula is vastly different from how life unfolds inland. And our inland communities are unique compared to the shores of our lakes. This diversity challenges the concept of one-size-fits-all.  
Bruce County Land Use Planning helps communities, businesses and individuals navigate these challenges as we change and grow over time. 
What Does the Bruce County Land Use Planning Team Do? 
Develops policies that guide land use across the County. 

Manages hundreds of applications for development and land use changes on an annual basis. 

Reviews planning applications and makes recommendations to local and County Councils and Committees. 

Ensures planning decisions and documents are consistent with the Provincial Policy Statement and conform to the County and Municipal Official Plans. 

Presents material to customers and/or at public meetings, neighbourhood information meetings, Committee and Council meetings. 

Responds to general and property-specific inquiries from the public, municipal partners and other stakeholders. 
Land Use Planning Policy 
Three levels of land use planning impact how Bruce County evolves as a collection of communities: Provincial, County and Local.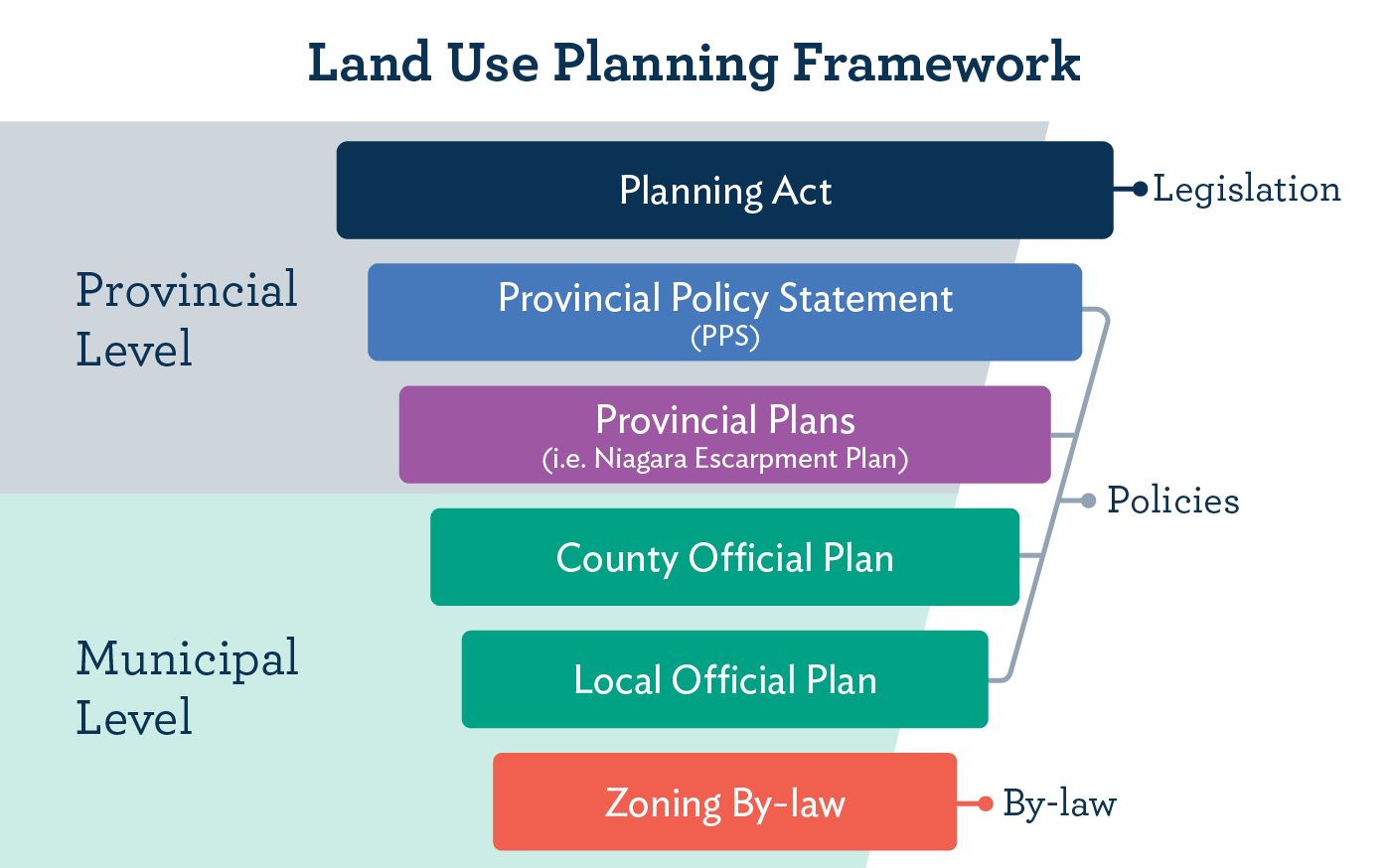 Provincial legislation and direction, including the Planning Act and Provincial Policy Statement, guide overall planning and land use in Ontario.​ 
The Bruce County Official Plan sets out the vision for our shared future, land use planning goals and policies to guide future land use. It provides in-depth guidance for agricultural and rural communities and high-level guidance for built up areas.  
Each municipality has its own Official Plan which may cover all of the municipality or just its urban settlement areas. These local Official Plans guide land use at a more detailed level than the County Official Plan.​  
Each local municipality also has its own Zoning By-law which puts the policies of the County and local Official Plans into effect. The Zoning By-law divides the municipality into zones and specifies what land uses are permitted, where buildings and structures may be located, and the development standards for each zone (e.g., lot size, setbacks, heights, parking requirements).   
Read More: The Government of Ontario has produced a series of Citizens' Guides that explain how the land use planning process works in Ontario. 
Roles and Responsibilities  
The Planning Department at Bruce County provides services to landowners and applicants for use of land in Bruce County.  Questions about land use as it relates to the Municipal and County Official Plans and Zoning By-laws, as well as the creation of lots by severance, subdivisions and condominiums can all be directed to Bruce County Planning and Development. 
Who is Involved 
Applicants and Developers: Bring proposals, applications and information forward.​ 
External Planners and Consultants​: Work with clients to develop complete applications and analysis of rationale and public interest of proposals.​ 

County Staff​: Receive, review and process applications in accordance with the Planning Act. Circulate notices to neighbors and agencies. Prepare mapping. Receive comments from the public. Answer questions for anyone interested in the application 

Municipal Staff, Agencies, Indigenous Communities​: Review proposals; offer comments, suggestions or requirements.​ 

Public​: Learn about projects, bring their ideas forward and support projects they want to see.​ 

County Staff Planners​: Review proposals and comments; may suggest improvements or alternatives; provide clear and accurate recommendations.​ Deliver a recommendation to Council. Councils and Committees​: Make the best decisions for your community based on the best information.​ 
Types of Applications 
An application under the Planning Act is a proposal brought forward by an applicant or developer.  
Bruce County's Land Use Planning Division processes the following land use applications where the County is the approval authority:  
Official Plan Amendment (County or Local Municipal) 
Consent (Severance, Lot Addition or Easement) 

Consent Cancellation 

Subdivision or Condominium 

Part Lot Control 

Validation of Title 
Foreclosure 

Power of Sale 
On behalf of local municipalities, the Bruce County Land Use Planning Department manages applications where approval of the local municipality is required: 
Minor Variance 

Alteration or Extension of a Legal Non-Conforming Use 
Site Plan applications are processed by the local municipality in which the property is located.  
Building Permits for development that align with the zoning by-law, building code and other applicable law are issued by local municipalities.
About Planning and Development Committee and Local Councils 
Bruce County Planning and Development Committee considers planning-related policies and development applications. The Committee makes recommendations to Bruce County Council about planning policies, by-laws and development applications where Bruce County approval is required. 
Decisions at the Municipal level may be made by a local Council or a committee (e.g., Planning Committee, Committee of Adjustment). 
Meeting schedules: 
Meet the Team  
Jack Van Dorp, Director, Planning and Development
Peninsula Office, located in Wiarton, Ontario
Serving Arran-Elderslie, South Bruce Peninsula, and Northern Bruce Peninsula 
Jennifer Burnett, Senior Development Planner*  
Megan Stansfield, Planner  
Lori Mansfield, Applications Technician  
Inland Office, located in Walkerton, Ontario
Serving Brockton, Huron-Kinloss, and South Bruce 
Monica Walker Bolton, Senior Policy Planner*  
Benito Russo, Planner 
Amy Rogers, Applications Technician 
Lakeshore Office, located in Port Elgin, Ontario
Serving Saugeen Shores and Kincardine 
Coreena Smith, Senior Development Planner*  
Jake Bousfield-Bastedo, Intermediate Planner
Julie Steeper, Floating Intermediate Planner*  
Barbara Mugabe, Planner 
Klarika Hamer, Applications Technician 
Geographic Information System (GIS) Staff  
Justin Kraemer, GIS Coordinator  
Paulette Weber, Planning Technician 
*Note: Staff also serve other municipalities in Bruce County as needed. 
We are Registered Professional Planners
Staff members on our team are Registered Professional Planners (RPPs), who have the education, ethics and experience to help guide the public, elected officials and the private sector on the journey to inspired communities. Learn more about Registered Professional Planners.
Contacts
Serving Arran Elderslie, South Bruce Peninsula, and North Bruce Peninsula
Phone Number:
519-534-2092
Serving Brockton, Huron Kinloss, and South Bruce
Phone Number:
519-881-1782
Serving Saugeen Shores and Kincardine
Phone Number:
226-909-1601