Fee Subsidy & Canada-Wide Early Learning Child Care
Child Care Fee Subsidy provides financial assistance to eligible families for children in their care attending a Licensed Child Care Program or an Approved Bruce County Home Child Care Provider.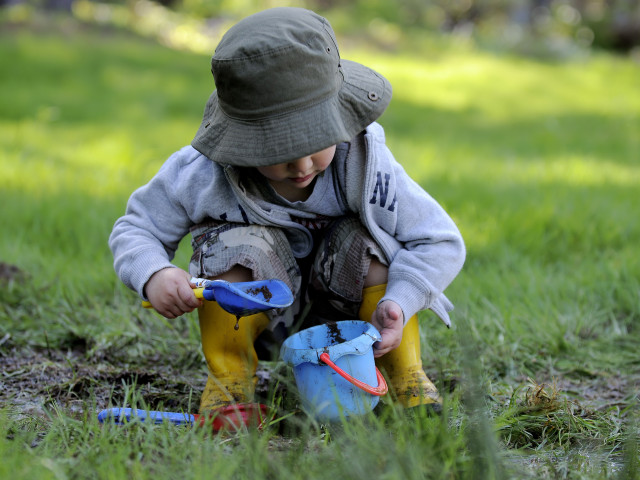 Canada-Wide Early Learning and Child Care Agreement
On March 28, 2022 the Province of Ontario announced that an agreement had been reached with the federal government to support Canada-Wide Early Learning and Child Care program (CWELCC). The investment of $13.2 billion dollars will lower child care costs and increase access to quality licensed child care over the next three years. In Ontario the CWELCC program will be taking a phased-in approach based on five pillars: improved affordability, improved access, sustaining high-quality service, inclusion and enhanced data and reporting.
Existing licensed child care programs will have the option to opt-in or opt-out of the CWELCC program and will have until September 1, 2022 to make this decision. As part of the phased-in approach, families will see an initial fee reduction of up to 25% (to a minimum of $12.00/day) retroactive to April 1, 2022. A further reduction will reduce average child care fees by 50% by the end of December, 2022. Additional reductions will take place in September 2024 and September 2025, bringing the provincial daily average cost for licensed child care to $10.00 per day.
We are committed to keeping the community, families and partners updated and information will be shared as soon as more information is available.
What does this mean for families?
If you have a child aged 6 or younger, and your licensed child care provider chooses to participate in the agreement, you may receive a 25% reduction on your fee, retroactive to April 1. An additional 25% reduction is also set to occur by the end of 2022.
Child care providers have until September 1, 2022, to notify Bruce County and apply if they wish to participate in the CWELCC. If your provider does participate, they will let you know when you will receive your refund. If your provider decides not to participate, they must also let you know.
When will childcare fees be reduced and retroactive payments be issued?
Bruce County is awaiting more details from the province. We will create an application process to make it easy for your child care provider to apply to the agreement. This process may take a few months, but you will still receive a refund retroactive to April 1, 2022, if your child care provider chooses to opt-in.
Thank you for your patience as we develop our processes to support this new funding program.
How is Bruce County preparing for the rollout?
Bruce County is committed to developing a child care and early learning system that meets the needs of all families with young children. We will work closely with our Federal and Provincial governments, and we will keep our communities informed along the way.
Questions?
If you have questions related to your child care provider's intention to apply to and participate in the agreement, please contact your provider directly. Bruce County will continue to provide more information to your child care provider as CWELCC rolls out.
Bruce County takes pride in being a great place to live, work, and raise a family. We are excited to work with child care providers and support families to provide high quality, licensed child care options that support families and promote healthy development of children.
To learn more about the CWELCC, visit https://www.ontario.ca/page/canada-ontario-early-years-and-child-care-agreement
Child Care Fee Subsidy
Families residing in Bruce County, who have children aged birth to 13 years, may qualify to have the full or partial amount of their child care costs paid.
Aims of the Subsidy Program
To support parents in their efforts to work or attend school
To provide eligible families with access to appropriate and convenient licensed child care
To serve and assist parents so they feel comfortable and have confidence in the care their child is receiving
To offer respite and resources to families, parents, and children who may be at risk
To monitor the progress of the children placed in licensed child care settings
To act as a resource to child care centre staff and to home child care providers.
The Child Care Fee Subsidy Program pays for spaces in Child Care Centres, Nursery Schools, and Before and After Care School Programs that are licensed and monitored by the Ministry of Education as well as Authorized Camps and Children's Recreation Programs that are High Five accredited. Child Care Fee Subsidy can also be provided for care by Licensed and Monitored Home Child Care Providers that are approved by Bruce County Children's Services.
How to Apply for Subsidy
If you are interested in applying for Child Care Fee Subsidy, contact the Bruce County Children's Services Division.
A Child Care Caseworker will meet with you in an office close to your home. You are required to bring federal notice of assessment and child tax benefit notice. Net income amount is used to determine eligibility.
If you are approved, the Child Care Case Worker will help you choose a child care placement that best suits your needs.
Access the online calculator by clicking the link "Child Care Fee Subsidy Calculator"
Contact us
Cindy Tanner
Human Services Child Care Caseworker Supervisor
Department: Human Services
Tel : 519-881-0431