Bruce County Trails
Bruce County is fortunate to have a wide range of multi-use trails in both urban and natural settings found throughout the county. These trails are operated by local municipalities, Bruce County, Parks Canada, Ontario Parks, Conservation Authorities, and local trail clubs. Whether you are looking to mountain bike or get out for a hike we have you covered. For more information on trails within Bruce County and specific uses please visit the link below.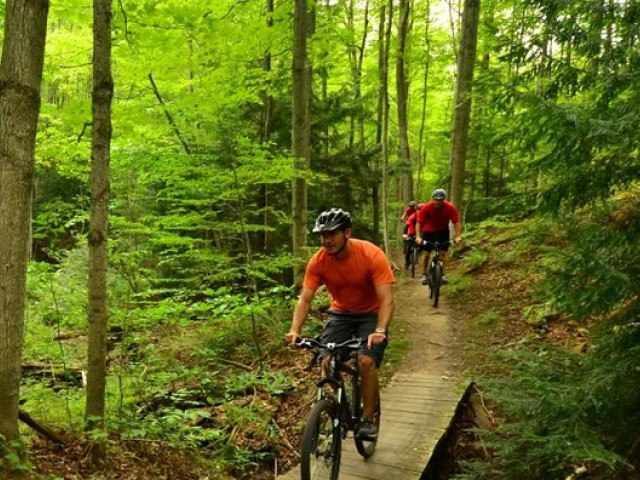 Bruce County Forest Trails
Bruce County manages approximately 12,000 acres of forest land in the county that are separated into varying tract sizes. Within these tracts the County presently manages and maintains four non-motorized multi-use trail properties that specialize in single track trail design suitable for activities such as mountain biking and hiking. Single track trails are designed to be open and flowing and much narrower than traditional double wide trails blending into the natural environment giving users a much closer connection to nature. These trails include:
Brant Tract
Carrick Tract
MTB Park
Lindsay Tract
For more information on these properties please visit the links below:
Keep up to date on closures and conditions on Facebook:
The Bruce County Rail Trail
The Bruce County Rail Trail extends from the Huron-Bruce Road through the towns of Mildmay, Walkerton, Paisley to Port Elgin, southerly to Bruce Power and is approximately 80km in length.
The Rail Trail is a multi-use trail resource that includes a variety of permitted motorized and non-motorized use. Non-motorized activities include cycling, hiking, horseback riding, cross country skiing, snowshoeing and dog sledding. Motorized uses include snowmobiles, ATVs, and Dual Sport Motorcycles with a valid permit.
Surface improvements have been underway the past 5 years to cover the old ballast stone with a finer aggregate to improve accessibility for walking and cycling. Most of the rail trail surface upgrades have been completed with the following sections remaining.
Bruce Road 40 to Mill Creek Bridge (Sideroad 13/14) Saugeen Shores (scheduled 2023)
Sideroad 35 to Huron-Bruce Road, South Bruce (scheduled for 2024)
Motorized Use on County Lands
The use of off-road vehicles is prohibited on county lands except in approved areas. The county does not oversee motorized use but provides access to local clubs by way of an agreement for the use of lands. Permits can be purchased through the clubs listed below. The fees collected from permit sales go directly into trail infrastructure improvements that are overseen by the motorized clubs and agreed upon by the county. For more information on trail maps and permits, visit the links below.
ATV users must have a valid permit from either the Huron Shores ATV Club or the South Bruce Peninsula ATV Club to ride in designated areas of county forests and on the Bruce County Rail Trail.
Dual Sport Motorcycles must be blue plated and have a valid permit from the Ontario Federation of Trail Riders to use the Bruce County Rail Trail. Dirt bikes are prohibited on county lands.
Snowmobile users must have a valid permit from the Ontario Federation of Snowmobile Clubs to ride in designated areas of County Forests and on the Bruce County Rail Trail.
Contact us
Andrew Beumer
Trails Manager
Department: Transportation and Environmental Services
Tel : 519-534-2092