Bruce County Trails
Bruce County has something for everyone, provided everyone likes to ride fast and get dirty. 12,500 acres of pure cycling wilderness laced with heart breaking scenery, rivers, roots and rock. This is arguably the sweetest single track in Ontario. So bring your date, your mother your friend or brother (and don't forget your bike).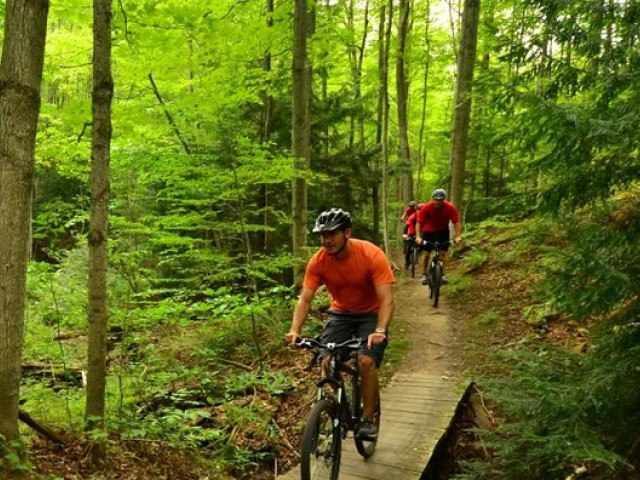 In 2001, the Trails Crew was formed where they started building the first trail at the Brant Tract. To date, we now have 4 multi-dimensional trails in Bruce County. The MTB trails are mostly single track—which is a narrow trail that generally follows the natural contours of the land. These trails tend to blend into the surrounding environment giving you a much closer encounter with nature. All of our properties are free to access—just bring your mountain bike, helmet, and other safety gear!
This Mountain Bike the Bruce website is updated daily to keep visitors informed of changing trail conditions, photos and news on our Twitter site! Please use this site to find more information on our four Bruce County trails, other local trails, places to eat, places to stay, and other places to visit in the County.
Interested in Volunteering?
The county is seeking volunteers to assist with a variety of trail maintenance functions on our trail properties. If you are interested, please review the following documents and fill out an application form
Property Updates
The trail crew spent most of the 2015 season re-vamping the Brant Tract near Paisley. The existing trail network has undergone some upgrades that include tread repair, trail re-routes and new bridges. The crew has also created two new trails for your enjoyment so be sure to give them a try. Be sure to check out the new map for the Brant Tract.
Contact us
Andrew Beumer
Trails Manager
Department: Transportation and Environmental Services
Tel : 519-534-2092