Waste Management
Waste Management responsibilities for Bruce County are shared between the local municipalities and the County. Local municipalities own and operate their waste management facilities and are responsible for garbage and recycling collection services. The County manages the Hazardous Waste Collection Program and assists in education and monitoring of waste diversion and disposal programs.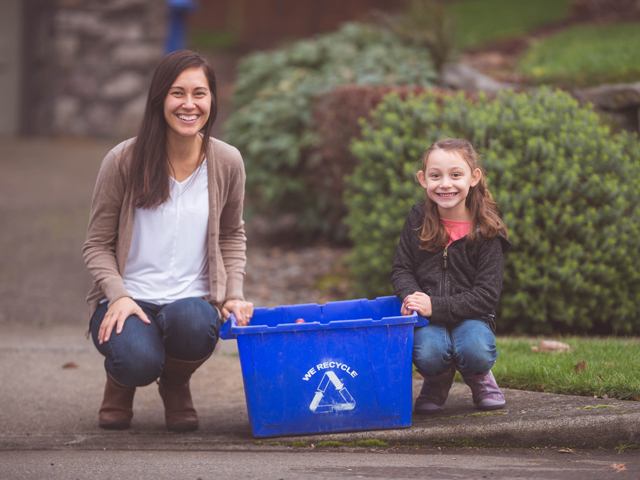 Important Notes
The lower tier municipalities are responsible for managing landfill sites, waste collection and the blue box program. During this unprecedented time, municipalities are making decisions to reduce and/or limit specific waste management programs (including landfill site hours of operation).

Please contact your municipality directly to receive up to date information on the services offered at this time.
Household Hazardous Waste Collection
Composting
From garbage to garden, composting is an easy way to recycle and can be done right at home.
Approximately 30% of waste that ends up in our landfills are materials that could be composted.
Get started by viewing the County's helpful Backyard Composting Brochure to assist with the set-up and management of your composter.
Blue Box Recycling
Blue box recycling is offered through curbside collection and recycling depots throughout Bruce County.
Recycling and sorting items properly protects precious natural resources and saves space in our landfills. The recyclables you put into your blue box are turned into new products. Recycling makes a difference.
Bruce Area Solid Waste Recycling (BASWR) and Waste Management Systems provide curbside and depot blue box recycling services. Visit your lower-tier municipal website for a complete list of acceptable items and for information regarding collection dates.
Electronic Waste
Unwanted electronics should not end up in the landfill.
Most parts of electronic items, such as steel, glass, copper, aluminium, plastics, and precious metals, can be recovered and made into new products.
Computers, printers, and televisions can also be reused reducing the need to create waste.
Electronic items can be dropped off at participating collection sites at no cost.
Batteries
Although household batteries comprise only 1% of total waste sent to our municipal landfills, they are responsible for between 50%-70% of all heavy metals found in landfills.
The effects of improper battery disposal are severe. 1mg of mercury is enough to make all fish in a 20 acre lake inedible for a year. For comparison - an average button cell alkaline battery contains almost 11mg of mercury. Despite awareness of the negative environmental effects of sending batteries to the landfill, only 37% of Canadians properly dispose of their batteries.
Municipalities have established battery collection depots for household batteries at the following locations:

Arran-Elderslie - Arran and Chesley Landfill Sites
Brockton - Municipal Office, Recycling Depot at the MTO Yard in Walkerton
Huron-Kinloss - Huron Landfill Site, Lucknow Works Shed, Ripley-Huron Works Shed
Kincardine - Kincardine Waste Management Centre, Municipal Office, Ward 3 Landfill Site
Northern Bruce Peninsula - Municipal Office, Eastnor, Lindsay, and St. Edmund's Landfill Sites
Saugeen Shores - Municipal Office, Southampton Landfill Site, Port Elgin and Southampton Library
South Bruce - Municipal office, Teeswater and Mildmay Landfill Sites
South Bruce Peninsula - Town Hall, Amabel Landfill Site, Sauble Beach Community Centre, Bruce County Tourism Office / Wiarton Library

Acceptable batteries include: Single-use batteries (AAA, AA, 9-volt, D, and C), Lithium batteries, Button cell batteries.
Tires
Visit your lower-tier municipal website for details about tire disposal options.
Propane Tanks
Propane tanks should never be placed in the garbage or the blue box for recycling. All propane tanks are accepted at a Bruce County Hazardous Waste Collection Events, where they are properly collected, packaged, transported, and recycled.
Propane tanks should be stored outside in an area where they are least likely to be damaged or subject to extreme temperatures.