Affordable Housing Development Toolkit:

Additional Residential Units

Ensuring everyone has a home they can afford starts with fostering housing diversity. In Bruce County, we need more housing of all shapes and sizes. Homeowners and landlords have a role to play in creating the diverse range of homes that our communities need. If you own or plan to buy a home in Bruce County and are curious about additional residential units, this toolkit will provide information and resources to help you understand what they are, how to create them, and how to manage them.
Contact Us
Tania Dickson
Housing Services Manager
Department: Human Services, Human Services
Tel: 1-877-396-3450
Introduction
What are additonal residential units?

Bruce County defines Additional Residential Units (ARUs) as "a separate residential unit that is located within a detached house, semi-detached house, or rowhouse or within a building or structure that is ancillary to a detached house, semidetached house, or rowhouse". ARUs function as additional homes on a property, with their own entrance, kitchen, bathroom, living quarters, and sleeping areas. They may be used by members or relatives of the household or rented out.

In Ontario, these additional residences used to be called secondary suites, but with the growing need for affordable housing options, the province has expanded the number of additional units that may be permitted on a property (Bill 108 - More Homes, More Choice Act) and Bill 23 (More Homes Built Faster Act). Additional residential units are also sometimes referred to as: granny flats, in-law suites, basement suites, laneway homes, accessory dwelling units (ADUs), and more.

ARUs can take different forms and be situated on different parts of a property. The illustration below shows some examples of different additional residential unit types.

Did You Know...

82.8% of all dwellings in Bruce County are single-detached homes. Apartments with 5 storeys or less are the second most common type of dwelling (7.9%), followed by rowhouses (4.6%).

We need more diverse housing options to meet the needs of households currently living and looking to settle in Bruce County, yet single detached homes continue to make up the majority of new housing being constructed.

By adding additional residential units to existing and new homes, we can foster greater housing diversity, make better use of existing infrastructure, and help ensure there's a place for all.

Source: Statistics Canada, 2021 Census of Population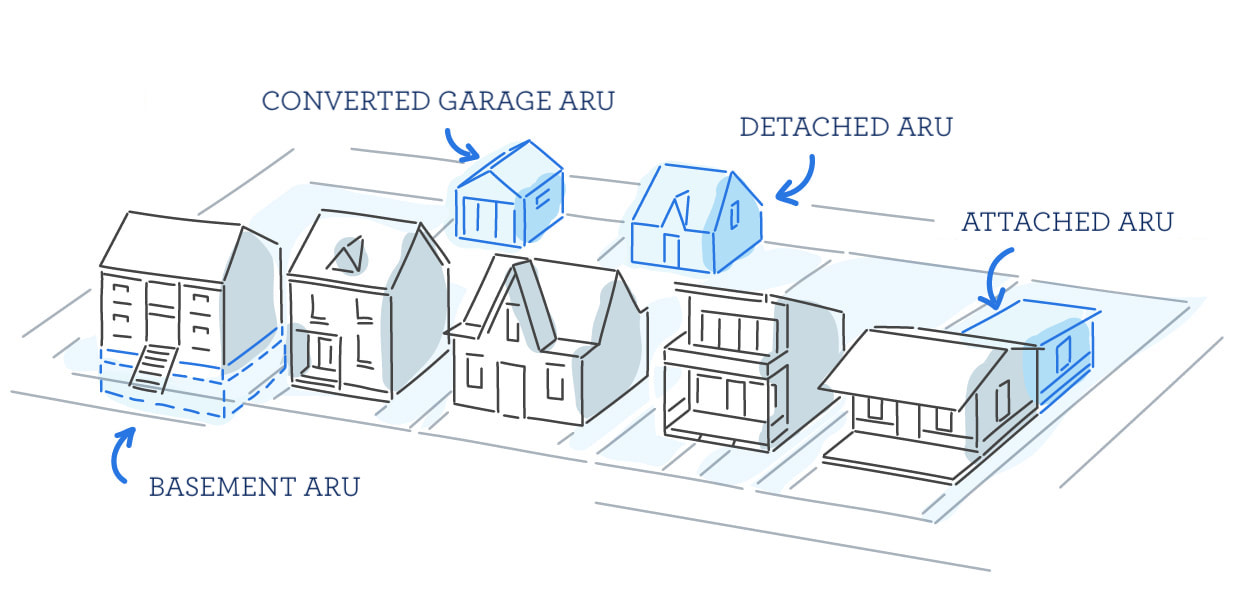 Different locations and types of ARUs (image adapted from housable.com)
Why create additional residential units?
Bruce County is growing. To ensure that everyone has housing that is suitable and attainable to them at every life stage requires creativity and embracing new ideas of what housing can be. Creating additional residential units is a way to unlock more housing supply, while increasing the diversity of housing options in our communities. When people create ARUs, it's an investment that not only benefits the homeowner, but the entire community and beyond.
For more information on the housing needs across Bruce County, see the Affordable Housing 101 Guide.
Financial Benefits

People Benefits

Community Benefits

Environmental Benefits

Adding and renting out additional residential units on a property can be financially beneficial for homeowners as rents collected from tenants add a source of revenue, which can be applied to mortgage payments and other necessities.
Additional residential units can increase the value of your property.
The availability of additional housing contributes to the economic wellbeing of local communities and industries by helping attract and retain skilled workers.

Additional residential units provide a solution to the need for modest-sized, rental housing for households such as young adults, older adults, seasonal workers, and newcomers.
Additional residential units provide people with more housing options as their needs, and those of their loved ones, change over time. It helps to ensure that people have access to the right housing for their life circumstance.

Additional residential units make more efficient use of existing homes and infrastructure through gentle densification. They add much-needed housing stock, while maintaining the character of established neighbourhoods.
Additional residential units help preserve and increase neighbourhood vitality by creating space to welcome new residents, while giving long-time residents options for downsizing within the community.

Additional residential units are smaller in size than many other dwelling types and use existing services and residential land. They tend to be more energy and resource efficient, minimizing the environmental footprint of new housing creation, while reducing sprawl.
Step By Step Guide
This Step-by-Step guide contains key information on the pathways for homeowners to create additional residential units in Bruce County. It includes key information on how to get started, design considerations, financial considerations, and the municipal approvals process.
Case Studies
Homeowner Checklist
Additional Tools and Resources
Affordable Housing 101
This resource will give you some helpful context on housing needs across Bruce County and the importance of affordable and attainable housing for all.
Here are some additional resources to help guide your ARU journey: